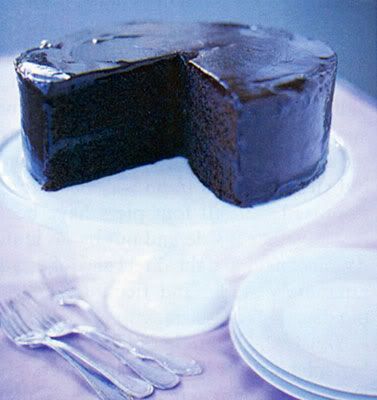 Second in an occasional series to lessen your fear of cooking
I know so many people who are terrified of baking anything from scratch, and only make cake from mixes, or biscuits from the Bisquick box or from a can. But I am here to tell you not to be afraid! Really, I promise, baking a cake from scratch is not that much more complicated or difficult than using a mix, and they taste so great. That sense of accomplishment, and the oohs and ahhs and mmmmms that you'll get when you bring that beautiful cake to the table and people dig in are enough to conquer those fears. Most cake mix recipes have you add an egg or two and some oil to the dry mixture, right? Well there are some simple cake recipes that are almost just as easy -- the dry mixture might consist of flour, cocoa, baking powder and salt, but that takes just a few minutes to get together, and you are often just adding eggs and oil to that, and sometimes another liquid. I swear, that can be it, and then you get to brag to people about your cake baking skills and listen to them rave about how good it is.
Here are a few quick things to remember when baking a cake from scratch:
As with the egg whites, it helps to have all of your ingredients at room temperature when you start out. If they're not at room temperature, and you're in a hurry, don't try to warm them up too fast (like in the microwave). For eggs, just put them (uncracked) in a bowl of warm water while you're getting your other ingredients together. For butter, cutting it up into small pieces will help it to soften in just a few minutes.
Pay attention to what the recipe says about the size of the pan, and how many pans to use. Once when I was twelve, I was making our favorite family recipe chocolate cake: it called for three cake pans, but I could only find two, so all of the batter was divided between two pans, and not three. When I checked on the cake midway through the baking and noticed that there was a volcano of batter streaming out of the pans onto the oven floor, I realized my mistake. Don't be like me!
Don't get baking powder and baking soda confused!
Don't overmix the cake; when mixing, you want the ingredients to be just combined enough so that no individual ingredient is distinguishable, but stop as soon as you get to that point.
To get even and flat cake layers (helpful when you want to frost the cake), after you fill the pans, rap each pan on the counter firmly -- that will release any air bubbles, and will keep the cake from having a big dome top. You can also buy some of these cake strips (available at most cooking stores and stores where they have cake decorating supplies), and they are like magic for an evenly baked cake for a nice flat top.
Parchment paper is your friend! Let me tell you, it is so much easier to do almost anything related to baking when you use parchment paper. Just put a little butter in the cake pans to start, then cut a circle of the parchment bigger than you think that you'll need. Fold the circle into a quarter, and put the point of the circle in the middle of the pan, and then fold back the circle where you need to trim the edge off. Unfold, and put the paper circle in the middle, and put a little more oil or butter on top to make it lay flat. Your cakes will be forever easier to take out of the pan.
Buttermilk makes for a great cake, so if you see a recipe that has that as an ingredient, let your eyes perk up a little. You can make a buttermilk substitute in a pinch by adding vinegar or lemon juice to milk, just a tablespoon per cup, and let it sit for about five minutes.


Frosting the cake

: It is much much easier to frost a cake once it has cooled all the way, and it is even easier if you do a light layer of frosting all over the cake, then pop it into the fridge to let it chill, and then finish the frosting job (this is called a crumb coat). But honestly, if you don't have time for that, your cake is going to taste just as good even if it looks a little more, let's call it "rustic" shall we? Just make sure it cools, because otherwise you'll pull off chunks of cake as you try to frost, and that's no fun.
But honestly, even if you forget most of these things, you can still turn out a good homemade cake. The second and third points are the most important of that list; if you use straight from the fridge ingredients, have no parchment paper, stir up the cake willy-nilly, and you don't have time to cool it all the way before frosting it, it'll still taste good (for the latter instance, just use a glaze, it's much more forgiving, or even better, make a cake that you can just dust powdered sugar over and call it a day).
Here are a few good recipes for easy, practically no fail cakes:
Double Chocolate Cake
This is based on the
double chocolate layer cake
from Epicurious, but I've made a few changes to the recipe that make it a little easier, the biggest of which is to convert it from 10 inch cake pans (which most people don't readily have on hand) to 8 inch cake pans.
Ingredients:
2 ounces semi sweet or bittersweet chocolate
1 cup hot brewed coffee (if you have no coffee on hand, just use hot water)
2 cups sugar
1 2/3 cups all-purpose flour
1 cup unsweetened cocoa powder (not Dutch process)
1 1/3 teaspoons baking soda
2/3 teaspoon baking powder
3/4 teaspoons salt
2 large eggs
1/2 cup vegetable oil
1 cup well-shaken buttermilk
1/2 teaspoon vanilla
Preheat oven to 300°F, grease pans, and line with parchment as discussed above.
Finely chop chocolate and in a bowl combine with hot coffee or water. Let mixture stand, stirring occasionally, until chocolate is melted and mixture is smooth.
Into a large bowl sift together sugar, flour, cocoa powder, baking soda, baking powder, and salt. In another large bowl with an electric mixer beat eggs until thickened slightly and lemon colored: about 3 minutes with a standing mixer, 5 minutes with a hand-held mixer, or 8 by hand. Slowly add oil, buttermilk, vanilla, and melted chocolate mixture to eggs, beating until combined well. Add sugar mixture and beat on medium speed until just combined well. Divide batter between pans and bake in middle of oven until a tester inserted in center comes out clean, 35 to 45 minutes.
Cool layers completely in pans on racks. Run a thin knife around edges of pans and invert layers onto racks. Carefully remove wax paper and cool layers completely. Cake layers may be made 1 day ahead and kept, wrapped well in plastic wrap, at room temperature.
Frost with your favorite chocolate frosting recipe, or the recipe in the linked recipe (or if you run out of steam for making frosting, I don't want to push you, just go with frosting from a can for now!)

Dense Chocolate Loaf Cake
This recipe is from the Domestic Goddess herself, Nigella Lawson, and it is easy and delicious, and it is one of those wonderful cakes where frosting it is not necessary.
1 cup unsalted butter, softened
2/3 cups dark brown sugar
2 large eggs, beaten
1 teaspoon vanilla extract
4 ounces bittersweet chocolate, melted
1-1/3 cups all-purpose flour
1 teaspoon baking soda
1 cup plus 2 tablespoons boiling water
Preheat the oven to 375 degrees F, put in a baking sheet in case of sticky drips later, and grease and line the 9x5 inch loaf pan with parchment paper (don't forget the parchment here, it's a very wet cake so you'll need it).

Combine the flour and baking soda in a small bowl, set aside. Beat the butter and sugar together, either with a wooden spoon or with an electric hand-held mixer, then add the eggs and vanilla, beating in well. Next, fold in the melted and now slightly cooled chocolate, blending it in gently and not beating hard. Then gently add the flour and baking soda mixture, alternately spoon by spoon, with the boiling water until you have a smooth fairly liquid batter. Pour into the lined loaf pan, and bake for 30 minutes. Turn the oven down to 325 degrees F and continue to cook for another 15 minutes. The cake will still be a bit squidgy inside (don't you love Nigella?), so an inserted cake tester or skewer won't come out completely clean.
Place the loaf pan on a rack, and leave to get completely cold before turning it out. Don't worry if it sinks in the middle: indeed, it will do so because it's such a dense and damp cake. Dust with powdered sugar, or don't worry about it, and slice and serve with whipped cream or ice cream.
------------------------------------------------------------------------------------------------

See, those didn't look that hard, now did they? The next time you reach for that box mix, don't do it! Think of these recipes and dozens of other easy ones, and bake it from scratch!
Getting more ambitious? Here are some fantastic tips about making and frosting layer cakes.