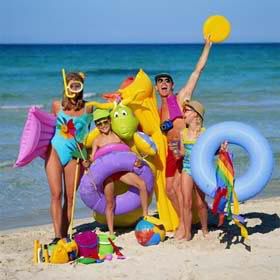 Happy Friday, y'all! If there is any justice, you've already left your office and will be reading this...sometime in the future.
As you may have noticed, we've been a bit light on the posting the last couple of weeks. I think summer - and Big Things In Life - have eaten our brains a bit, and so we are going to officially take a brief summer vacation. We'll be off next week, recharging our creative juices (and mixing a whole bunch of other metaphors), and will be back Monday the 16th, bright-eyed, bushy-tailed, and as full of opinions as ever.
In the meantime, feel free to peruse our older posts and if you have questions, comments, post suggestions, or just a link to share, hit us up on Facebook or Twitter, or shoot us an email. (Links to all those fun things are to your right.) If you're really jonesing for new content, all our favorite blogs are also linked on the right, and they are all full of wit, wisdom and sometimes, if you're really lucky, poop jokes.
Thanks for being so awesome, and we'll see you in a week!