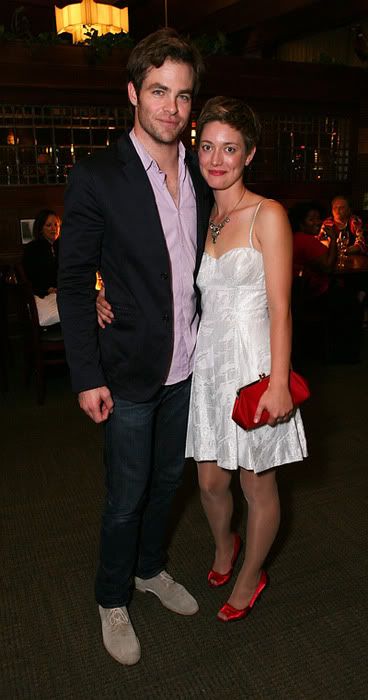 Chris Pine and a woman dressed as a Don't
, via ONTD
Of the things that Daisy, Roxy and I thought would happen when we started this blog, I would say "Become internet source for pantyhose questions" would be far far down the list. And yet our
two
posts
about hosiery we thought would be uncontroversial and obvious to the rest of the world, and they turned out to be anything but. And then, we started noticing with a mixture of amazement, horror, and hilarity that we were getting a whole lot of hosiery related searches bringing people to Don't Do That. Below are just some of the actual searches that we got, with (because we are here to serve) our answers:
Can you wear pantyhose with open toed shoes?
How many times do we need to say this? NO.
Nice summer shoes that aren't open toed?
Excellent question! I am a big fan of the ballet flat, and I really love the ones from
London Sole
-- they're a little pricey, but they fit great, they're comfortable, they come in a lot of adorable styles, and they often have sales. But there are lots of other ballet flat options, like
these darling
Kate Spade ones, these cute
star ones
, and
these embellished ones
. You could also go with espadrilles, like
these
, some nice slingbacks like
these
, or something in a nice summery color, like
these
.
What do you do if you have ugly legs, can you wear pantyhose?
I don't even know where to start with this one.
No, actually, I do: one disturbing theme that showed up in some of the pantyhose related comments and many of the searches is a big level of body hatred. People think their own legs are ugly, or someone else's legs are ugly, and are looking for ways to hide themselves (or other people) behind clothes. People, pantyhose may be your security blanket for facing the world, but there's really no difference between what your legs look like bare and what they look like encased in sheer nylon, except they're shinier. Put down the shiny and easily torn blanket, embrace an exfoliator, and learn to love your legs.
Can you wear open toed shoes to work?
Well, this depends on your workplace. I live and work in California, and even though I work in a relatively conservative industry, everyone I know wears open toed shoes to work except on a very formal occasion. In more conservatively dressed places in the US or the world, maybe not. The best rule of thumb here is to not wear them at first, and see what the other women in your office do. Don't wear them to court, don't wear them if you work in the Pentagon, don't wear them to a professional job interview. And when you do wear them to work, please make sure your toenails are well groomed.
Do you wear pantyhose to a summer wedding?
(Note, we get versions of this one repeatedly)
Again, this depends on where you live -- I never would, especially if I'm wearing a summery wedding appropriate dress, but if you live in the South and your grandmother would swoon if you showed up without hose, then you might. But then again, if you live in the South, it's probably in the 90s during any summer wedding, and so you may die from heat during the wedding and do you really want the bride to have to deal with your heatstroke during her wedding? I don't think so.
Pantyhose feet wedding
Elephant nose commencement!
...dude, I don't even know.
Why don't women wear white tights?
Because they make women look like they're trying to look like a little girl on Easter Sunday. They also make your legs look stumpy, and make any shoes look ugly.
Where can I wear white pantyhose?
NOWHERE.
I get blisters when I don't wear hose, how do I solve that?
I am glad that you asked! Our commenter eee discussed this in the comments of the last pantyhose post, and we thank her for her wisdom. She told us of her great luck with the
Band Aid Blister Block
(you can get a coupon on their
website right now
!), and then while looking it up to try to buy some for myself a few weeks ago, I discovered that Dr. Scholl's also makes a similar product,
Dr. Scholl's Blister Defense Stick
. I bought the Dr. Scholl's one in my locak drugstore, and in the interests of science, tested it out with some of my shoes that always give me blisters. And lo, it worked! I am a convert.
I hate white tights on women
(so do we, so do we)
But how do you feel about them on men? We may have a fellow who'd like to meet you...
My husband wears pantyhoses
We're okay with this, as long as he isn't wearing them with open toed shoes.
(note, this searcher should get together with the searcher from this morning who was looking for something related to
pantyhose husband "must wear"
.)
Do women like men who wear pantyhose?
We're sure some do. But while we believe there's someone out there for everyone, you probably shouldn't mention it on the first date.
Should you wear pantyhose with open toe booties in winter?
You should not wear either of these things in any season.
Can I wear opaque pantyhose with sandals?
NO. NO NO NO.
Do I wear pantyhose with peep toe shoes at my wedding?
NO.
Sarah Palin pantyhose
...
Fat pantyhose ladies
Daisy says: At first I thought this referred to ladies made of pantyhose, but maybe it's actually a search for plus-size hose? With the 'ladies' tacked on to differentiate form the men's pantyhose?
As for me, this search just makes me laugh and laugh. Sometimes I think of it in the middle of the day and laugh.
Are pantyhose and open toed shoes back in?
BACK in? THERE WAS NEVER AN IN TO BE BACK IN.
Should you wear hose with open toe shoes at weddings?
NO.
dirty pantyhose feet
Daisy likes this one, because her tights get discolored from the soles of my shoes, and she doesn't know how to fix it. Readers, any suggestions?
wearing pantyhose for running
Go for it, as long as your sneakers aren't open toed.
Do you wear white pantyhose with all white?
Not unless you are a nurse in the 1950s.
shrunken men lost in pantyhose
We don't want to know. No seriously. Please don't tell us.
Do professional women still wear pantyhose in Chicago?
Winner for most specific search ever! Though I think that the answer is yes to this, because I have a friend who worked in Chicago a few years ago where they were required to wear hose in the summer even when it was unbearably hot. Chicago readers, please tell us if that's not true.
Women who wear pantyhose when it's hot outside
Was this supposed to end with "...are INSANE!"? Look, it is the middle of July, and in many places that means it's hot as hell. Why would anyone voluntarily wear pantyhose in the extreme heat? It doesn't make you look more put together, and it certainly doesn't make your legs look better, it just makes you look sadly behind the times and that you will need to stand under an air conditioner all day to recover from your brief time outside.
Readers, do you have any other hosiery related questions for us? Even if you don't tell us, we'll see your questions turn up in searches soon, so we're glad to help. We are not pantyhose (wow, that word has lost all meaning now) haters here, we just think that there is a distinct time and a place for them, and that time and place is never when wearing open toed shoes (or, for that matter, shorts -- another thing that we thought we'd never have to say).
Belated note to all of the creepy creepy pantyhose fetishists who keep commenting anonymously to this year+ old post: All of your creepy comments make it less, not more, likely that anyone will ever wear pantyhose again. So keep at it, creepy dudes who like pantyhose, you're doing our work for us!