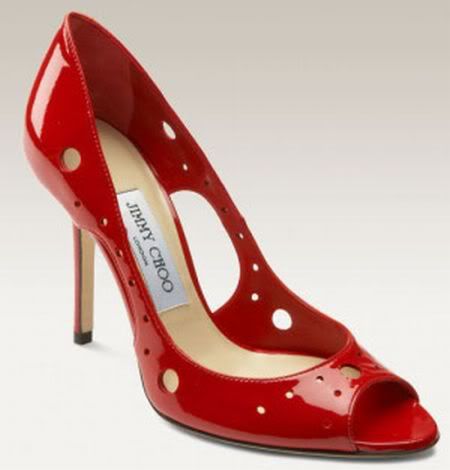 Ladies and gentlemen, it is now officially summer!* That means that in many parts of the globe, it is warm and sunny enough for us all to wear our sundresses, pink lipgloss, floppy straw sunhats, and oh yes, our fabulous summery sandals. (Sorry to our readers in the Southern Hemisphere, but you can think of this post next January when we're freezing and bitter and you're warm and tan). However, the problem with summer is that that scourge of the universe is upon us. You know it, we all know it. Pantyhose with open toed shoes, every May I have hope that we would have banished you from the universe, and every June you come flying back, stronger, reinforced, and with that seam bolder and bolder. Please let this post be one of the things that helps get rid of this nightmare forever. Don't, don't, wear pantyhose with open toed shoes.
In looking for a picture to illustrate this post, I google image searched "pantyhose with open toed shoes." The images that I saw will give me nightmares tonight, so to cleanse my spirit of those, I found that lovely picture up above. Do you see those fabulous shoes? Can't you think of the great outfit that you would wear to go with them, if your fairy godmother came and left them in your shoe size under your pillow tonight? And how you would make sure to have a perfect pedicure to go with them, to show the shoes off all the better? And can you think of what they would look like if instead, you had nylon stretching across your toes, in some weird "nude" color (or, God forbid,
white
). You just heard a record screech, didn't you?
I see this everywhere in the summer, though Washington D.C. was the worst town for it, even though in the summer there it is 95 degrees on a good day. (I hope that our new First Lady of Awesome will help get rid of this trend, but we all know that D.C. is very slow to change.) I have generally never understood why people feel this compulsion. For the one thing, it's just seasonally inappropriate. When it is 90 degrees outside or even hotter, why would anyone want to wear pantyhose? I sweat at the general idea. Here's a general rule: if it is hot enough for sandals, it's too hot to wear pantyhose. (A corollary to that rule: if it's cold enough for you to want to have pantyhose to keep your legs marginally warmer, it's too cold for you to wear open toed shoes.)**
And, okay, some jobs still make women wear pantyhose (still! In 2010!). If your job is so formal as to make you wear pantyhose, open toed shoes are usually forbidden. And even if they aren't, don't you want to save your pretty fun summer shoes for a time when you don't have to ruin their look with a sheer nylon horror?
Is it that your grandma told you that you have to wear hose when you dress up? Do you really want to dress like your grandma?
And I understand that sometimes we all want the control top power that a good pair of hose can provide. But you know, that's why Spanx were invented. Even
men
are
wearing
them now!
But you know, the worse thing is that people think that women must wear pantyhose, because the sight of a woman's bare leg is somehow classless and disgusting. Can someone explain this to me in a way that isn't pure misogyny and making women keep every part of their bodies covered? It's just another way of making women feel bad about themselves, and that their legs are too pale, or too scarred, or too dark, or too fat to be in the public view alone. Attention, ladies: having a sheer nylon cover over your legs does not change the way that they look.
Instead of covering yourself up, do your legs a favor. Moisturize well (I am a big fan of the
Lush Buffy
, myself, perfect for this time of year), shave (if you do shave, that is -- and if you do, I favor the Mach 3 Turbo blades with the Venus handle), do some self tanner if that makes you feel better, and slide into your awesome shoes with confidence.
*Yeah yeah, not officially until the end of June, but I count the beginning of June as summer.
**Not that I haven't worn open toed shoes when it's cold, I have; I just don't wear hose and don't complain about it. Also note: this is not about tights and peep toe shoes -- I have seen that done and awesomely, but it usually only works when they are very opaque tights and shoes of a different color so that they pop. It looks especially fun with brightly colored tights. But, again, this is just for peep toes, not strappy sandals.
P.S.: Right after posting this, I was in the elevator with a very smartly dressed woman...with the exception of her feet, where she was wearing open toe slingbacks with that pantyhose seam running right across her toes. Sigh.