Don't be afraid to make a pie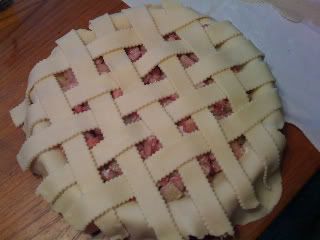 I love pie. Just the word PIE sounds like it is full of cozy and satisfying promise. And do you know what is even better than regular pie? A pie that you made with your very own hands. So many people are afraid of making pie, but I promise you, if you keep a few techniques and tips in mind, it is not hard! And since it is now summer, the perfect time to make a fantastic fruit pie, I am here to tell you don't be afraid to make a pie! You can make something totally delicious and impressive, and everyone will be amazed that you made it all yourself, crust and all.
First, let's talk about the crust. Before talking about specific recipes, here are a few notes and techniques that you need to keep in mind before making any pie dough.
1.
Give yourself enough time
: making a pie crust isn't the kind of thing that you want to rush through. Actually putting together the dough takes only a little while, and just a few minutes if you have a food processor, but it is essential to give the dough time to rest and chill in the fridge after you put it together and before you try to do anything with it. If you want to test this out, try taking a little piece of your dough and try rolling it out immediately after it all comes together, and then try doing it after it has an hour in the fridge: you'll see a big difference.
2.
Keep everything as cold as possible!
: Start with cold (ideally frozen) butter and whatever other fat you're using, use ice water, and if you can, pop your flour in the freezer for a little while before putting everything together. You want the fat to melt in the oven (that's what makes everything nice and flaky), not before.
3.
Parchment paper is your friend
: If you lay down a sheet of parchment paper on top of whatever surface you're rolling on, you don't have to worry as much about the dough sticking, and you have to use less flour (though you should still use a little).
Second, let's talking about the filling. Peach pie is awesome, as is apple, but the easiest thing to start off with, especially at this time of year, is a berry pie. You can go with all of one berry (blueberry, raspberry, strawberry, blackberry, olallieberry, etc.) or you could do a mixed berry pie. The general recipe for any good berry pie is about 6 cups of berries to 1/2 cup of sugar (give or take a little sugar depending on the sweetness of the berries), the juice of half a lemon, and three tablespoons of cornstarch. Combine the berries, sugar, and lemon juice in a bowl, toss gently and let it all sit for about ten minutes. Then add in the cornstarch, toss again, and add to the pie pan. Dot the berries with butter (about 2 tablespoons, cut into little pieces) Cover up the pie and bake! For specific baking instructions (or if you're using a purchased pie dough), jump to instruction 4. below.
Now for pie dough recipes!
A traditional all butter pie crust is usually the most recommended (and
here's a standard recipe
for one). But honestly, I find all butter crusts to be a pain in the ass to work with; they stick to everything, they're really hard to roll out, and they just end up getting me frustrated. Don't get me wrong, I love the taste of butter (oh, I really do), but for pie crusts, the all butter dough is enough to turn a virgin pie baker away from ever making a pie again.
But I do have a perfect pie dough recipe: it comes together in a few minutes, it's easy for even a brand new baker, it rolls out like you're demonstrating on the Martha Stewart show, and it tastes great and goes with just about every kind of fruit pie you can think of. It uses a combination of butter and cream cheese, and it's fantastic. You can also use more or less this same recipe but substitute lard for the cream cheese, but that depends how into lard you are. Thanks go to
Rose Levy Beranbaum
for this, and an adapted version of her recipe is below (from the Pie and Pastry Bible). However, mostly now when I make it, I use her same method, but the general measurements from
Michael Ruhlman's
Ratio, with about two thirds butter and one third cream cheese. Ratio was a book all about measuring by weight and the right ratios of cooking: he says that a pie dough is a 3/2/1 ratio, so three parts flour, two parts fat, and one part water (use your kitchen scale for this if you have one); you generally need a little less water than that, though, so for a 1 crust 9 inch pie it's about 210 grams flour, 140 grams fat (90 butter, 50 cream cheese), and 60 grams water. Double that for a double crust pie; it usually gives me a little dough leftover, but dough leftover is better than not enough!
Flaky Cream Cheese Pie Crust
For a 9 inch crust double crust pie
12 tablespoons or 6 ounces butter
2 cups or 10 oz flour
1/4 teaspoons salt
1/4 teaspoons baking powder
4.5 ounces cream cheese
2 tablespoons ice water
1 tablespoons cider vinegar
1. Cut the butter into small cubes, wrap it in plastic wrap and freeze it until frozen solid, at least 30 minutes. Place the flour, salt, and baking powder in a recloseable gallon size freezer bag and freeze for at least 30 minutes. Place the flour mixture in a food processor with the metal blade and process for a few seconds to combine. Set the bag aside. If you don't have a food processor, shake the closed bag with the flour mixture in it, or you can pour it into a bowl and toss with your fingers.
2. Cut the cream cheese into a few pieces and add it to the flour. In the food processor, process for about 20 seconds or until the mixture resembles coarse meal. Add the frozen butter cubes and pulse until none of the butter is larger than the size of a pea. Remove the cover and add the water and vinegar. Pulse until most of the butter the size of small peas. At this point you can either process it for a few more seconds until it all holds together, or put about half of it into a bowl, knead with your hands until it forms a ball, put that ball to the side and do the rest with the rest of the dough. Then wrap each ball with plastic wrap, flatten into two discs and refrigerate for at least 45 minutes.
3. If you don't have a food processor, whisk the dry ingredients to combine, then add the cream cheese and rub between your fingers to blend into the flour. Then spoon it with the cold butter into the freezer bag, and close it, expelling any air. Use a rolling pin to flatten the butter into thin flakes. Then put it back into a bowl and sprinkle with the water and vinegar, and toss lightly with a rubber spatula, and do the kneading from above. This dough also freezes really well, so at this point you can wrap it well, and put it in the freezer, and just pull it out and defrost in the fridge whenever you want to make pie.
4. After the dough has rested, preheat your oven to 400, roll out each half to about a 12 inch circle (you want plenty of room around the edges). To transfer the circle into your pie pan, fold it gently into fourths, then put the point of the fold in the middle of the pan, and gently unfold and press it down. At this point, cover the pan and put it back in the fridge for about 30 minutes. Then add your filling, cover up the pie with the rolled out dough of your other disc of dough, press the edges of the pie together with your fingers, cut a few slashes in the top crust to let the hot air come out, and refrigerate again for about 30 minutes. You can also do pretty things with lattice crusts at this point, which I love.
5. Then put it in your hot oven (with aluminum foil underneath to catch any drips) and bake for 25 minutes, then turn down the heat to 350 F and bake for another 40 minutes. If your crust starts getting too brown on the edges, put aluminum foil around the top to keep it from browning more. Then let it cool, and you have a beautiful pie!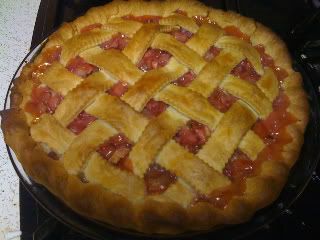 You should also follow along on the
Good Food blog
this summer, as Evan Kleiman does the Pie A Day project again. I got a ton of ideas from
all of the pies
that she made last summer.
The pictures are from a rhubarb pie that I made last summer. Yay for pie!