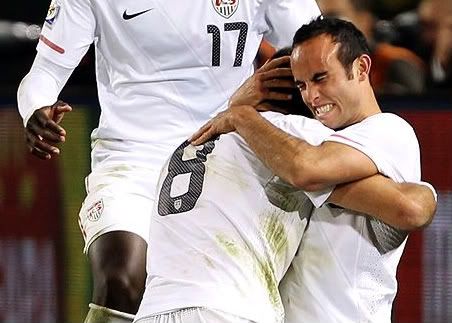 I really really really hate getting up in the morning, as anyone who has ever known me or been my roommate will be able to tell you. I live on the West Coast, where World Cup games start at 4:30 am. The USA game going on right now started at 7, which is 30 minutes before my alarm goes off, and 45 minutes before I actually ever get out of bed. Also, it will end at approximately the time I should be arriving at work, which is about 35 minutes away. And yet, I pulled myself out of bed when my alarm went off today at 6:55, and am now sitting anxious on the couch yelling at the ref for that BULLSHIT call just now. And I will likely be late to work, because this damn game is stressful. But that is because I love America, so suck it, Sarah Palin, those of us on the coasts are patriots too.
And I can tell that my neighbors are all watching too, since the buzz of the vuvuzela is coming from the house next door.
45 more minutes. USA USA USA!
ETA: Now with updated picture of the GOAAAAAAAAAAAAAAAAAAAAAAAAAAAAAAAAALLLLLLLL