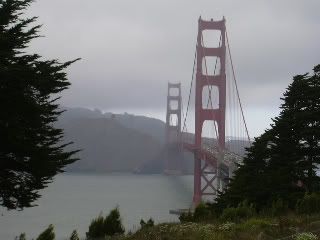 A typical view of the Golden Gate bridge in July.
All of you
out there dying in the summer heat should book a plane ticket to San Francisco, where it is currently 59 degrees and overcast. Most of you are wearing light summer dresses and drinking iced coffee, and sitting under the air conditioner and fan to cool off. I'm drinking hot coffee, wearing a jacket and scarf, and had my electric blanket on last night. We're in the middle of
the coldest summer in 40 years
here.
Not that I'm complaining, mind you. Okay, not that I'm complaining TOO much. I've lived through summers on the East Coast, including four summers in Washington DC and one in New York, so I know the pain of being drenched in sweat as soon as you walk out the door and just giving up on your hair ever looking attractive from July through Labor Day. Don't get me wrong, I don't miss that.
I do kind of miss the warm nights, though. And going to the beach with friends on the weekend and actually wearing a swimsuit and going in the water and not being huddled up in a blanket and praying for the sun to come out. And actually needing my sunglasses to shield my eyes from the sun and not as just an accessory. Those of you who need that for the summer? You probably shouldn't come to San Francisco.
Those of you who need a break from the heat, or are coming to visit to experience the
great
food
, beautiful views, and
fantastic
wine
of the Bay Area take note. Pack your jeans and bring a few sweaters, because otherwise you'll be some of those tourists that we all make fun of in their identical San Francisco sweatshirts (they make a killing on those because none of the tourists are prepared for needing a sweatshirt here).
And pssst, don't tell anyone, but the best time of year to come here is September and October, that's when the sun actually comes out.