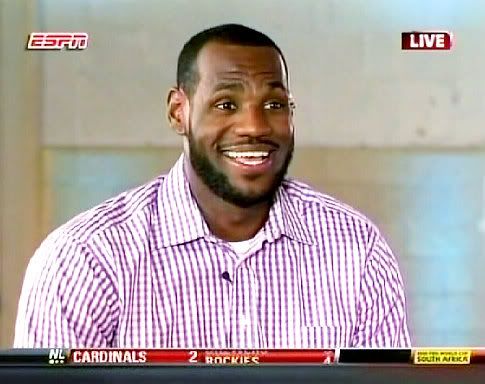 Back in April, Brownie taught us all how not to be
Brett Favre
. Short version? Don't screw over your team in the offseason, just because you're a little crazy and very selfish. The last line was the following:
And the next person out there who is thinking about acting like this? You don't be Brett Favre either.
Well, it would appear that a certain enormously famous basketball player has a short memory, as last week we found ourselves in the middle of what my Lebron-defending, Cavs-loving friend has called, "The worst thing in the history of professional sports."
I'm not sure that's quite true, but we've
mentioned before
that hyperbole and melodrama is part of the fun of being a sports fan, so we'll let it slide. What I am sure about, however, is that it has been a complete disaster on so very many levels.
Lebronfires!
Booing!
One million words by
Bill Simmons
, even before The Decision!
And, of course, one of the most amazing Open Letters ever, complete with Comic Sans (the text is
here
- for the full effect, copy and paste it into Word and then change the font).
While all of this may be entertaining for those of us who are removed from it, it doesn't take away the bottom line: Lebron publically and elaborately screwed an organization that put seven years and countless millions of dollars behind him, not to mention his hometown, because he wanted something shiny and he wanted it
now
, and he did it in the ugliest way possible. What did he think that his actions were going to say to people? What kind of example does he think he's setting? And WHY did his advisors let him do this? Remember - Lebron is 25 years old and has been in the NBA since he was 18, so his view of reality is, shall we say, a bit skewed. But where were they? "They're all young, too!" is not an excuse - I am the same age as his oldest advisor, and I am well aware that this was a fuck-up of monumental proportions.
Believe me, the sports-trainwreck-lover in me is getting a huge kick out of this. I love the
The Decision parody at the Espys
(Steve Carell and Paul Rudd can basically do no wrong, and it redeemed ESPN a bit), and I love headlines
like this
. But Cavs fans are less amused, and with good reason.
My friend says this:
I was prepared for disappointment, but...just the way he handled it...if he had announced he was going to Chicago in a normal way, I would have understood. I would be sad, but not hateful. But going to Miami is so dumb, and a 1-hour special is the worst thing in the history of professional sports. Someone called it a cringefest, I can't remember who. Terribly accurate.
I think that's the point here. Even his staunchest defenders weren't really expecting him to stay in Cleveland. But they also weren't expecting to be dumped on national television, for Lebron to prove them all so very wrong so very loudly.
So hey, the next time you're thinking of fucking someone over - your boyfriend, your boss, your sports franchise - just stop. Think about a slightly less douchey way to do it, and don't be Lebron James.