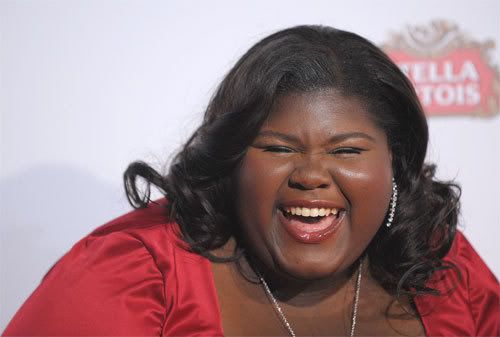 Full disclosure: This post has been in the topics queue since the very beginning. We here at Don't Do That have been nursing tremendous girlcrushes on Gabourey Sidibe for months, eating up every soundbite and giggly interview she's done throughout this awards season, while picking up accolade after award after prize for her performance in
Precious: Based on the Novel 'Push' by Sapphire.
And now that we've gotten through the Oscars and the awards overdose, today we are going to quit lecturing for a minute and simply tell you:
Yes. Do Be As Awesome As Gabby Sidibe
.
"I don't think my brand of confidence can come from an outside source. I have to find it in myself. I have two little sisters who are 13 and they're just at that age where they're about to hate themselves. I do it for them. They think I'm pretty, and I want them to think they're pretty."
(
Link
)
By now, you probably know the story. Gabby, a New Yorker who was studying psychology and working as a receptionist, skipped class on a Monday and decided to go to an audition. By Wendesday, Lee Daniels had offered her the lead in his movie. What has followed is a whirlwind of fast fame - print interviews, photo shoots, TV appearances - for a woman who is far outside the Hollywood Box, and through it all she has maintained a demeanor that can only be described as delightful.
"This time
(in her next film),
I get to make out with a boy. I know that because I wrote it into the script."
(
Link
)
First of all, she is a self-admitted geek, who nurses giant crushes on boy band stars from the 90s. When she had to "Earn Her Plug" on
Leno
, he asked her what she was going to do. Gabby's answer? "I'm going to be awesome at *N Sync trivia." And awesome she was, even after an appearance by a Very Special Guest got her flustered. In other boy band silliness, the highlight of the Golden Globe nominations for her was that
"Justin Timberlake just said my name!"
. ("... it's like the nomination is That's How I Roll from Cold Stone Creamery and Justin saying my name is like cherries on top of That's How I Roll from Cold Stone Creamery.") She dropped hints that she wouldn't say no to a cage match featuring
Anthony Mackie
(of
The Hurt Locker
) and Justin Timberlake, with the
winner being her date to the Oscars
, and once she decided to take her mom to the ceremony (her new boyfriend "hasn't earned the Oscar ticket"), she suggested that Justin meet her
at Red Lobster
afterwards.
"My mom has a crush on Steve Martin, and we used to watch The Jerk pretty much every day. And so I'm really excited that this show will be hosted by Jack Donaghy and the Jerk."
(
Link
)
This is a woman who is absolutely confident in herself. When
Chris Rock
grabbed her ass at the NAACP Image Awards - pissing off her father in the process - she laughingly smacked his hands and responded by saying, "Some dudes gotta have it – it's my own fault for being too damn fine." Lee Daniels told
an interviewer
that she is "unequivocally comfortable in her body . . . I had no doubt that she had four or five boyfriends, easily." Her response was "cackling" - "It's a gross underestimate." Sunday night, after telling a reporter that she thinks Gerard Butler is hot and she would totally hit that, he popped up behind her and shook her hand. Instead of getting embarrassed,
Gabby told him,
"I kinda said, 'I'd hit that.' I'm not ashamed. I'd hit that. I'm sorry." Gerard replied: "I'm here, I'm available. Let's go!" and Gabby responded: "Let's grab a bottle of champagne and see where the night goes." And at this point we've all heard her
comment
about her Oscars dress that left Ryan Seacrest - SEACREST - speechless, right?
"Just because our president is black doesn't mean our struggle stops. The Obama family is something for us to aspire to, but a lot of us aren't going to get there." Is Precious going to get there? "Precious's story is a fiction," says Sidibe, "but it's also a truth. There are lots of Preciouses out there and not all of them are as lucky as her. She has a light of hope in her that we see in the film even when she's in the heart of darkness. Others may not be so lucky. But who knows if she's going to get out of her world. We hope she will, though, don't we?"
(
Link
)
The first thing that pops into Gabby's head when asked about the perks of fame is
free shots
. She has opinions on
face tattoos
. The day she got nominated for an Oscar, her mom texted her and asked her to
act like a serious 26-year-old
. She used to be a bully to the boys in her class, she wanted to be a comedian (she thinks she
peaked too early
), and she does a killer impression of...well, herself. She tells hilarious stories about meeting
the biggest star on the planet
, she and her roommate choreograph dance routines JUST IN CASE they end up on
Ellen
,
she hangs with Johnny Weir
(please do not read the comments there - they are
not
awesome), and she's fabulous enough to prompt Conan O'Brien to say that she's
his favorite guest ever
.
"People trip over themselves to tell me I'm beautiful. It's cute. It's cute, but I'm not buying it. I'm beautiful now because you can buy a ticket to see me on a screen? I was beautiful before."
(
Link
)
But more than just silly and giggly, Gabourey is also thoughtful and articulate. She's working in an industry where she doesn't fit, and the role she plays is one of great horror and heartbreak. She spent the first few weeks and months after the release of the film having to deal with people confusing her with her character. "I've seriously got people saying to me: 'Are your children OK now?' And not just from ordinary people, but from people who've been in the movie business 20 or 30 years." In talking about Precious, the girl, she
says
, "It's like she's fat. Well fucking A. She's already having a hard life. So what, if she was skinny, would this story be any the less heartfelt or daunting. I think it's funny that people are like 'on top of that...' but that's not the story. That's not the point." It's a part of the film, and of Gabby, that cannot be overlooked, though, and her weight comes up in nearly every interview she's done. "Over time," she's
said
, "I've worked out that nobody else lives in my body, nobody else has to live my life, except for me. I'm the only one in charge of whether I'm happy or sad." Something tells me that that could be a lesson for all of us.
"If you look at Precious and all you see is someone who is overweight and dark-skinned, you're missing the point. Just like if you look at me and all you see is someone who is overweight and dark-skinned. You've missed the point. You've missed me."
(
Link
)
So what's next for this completely adorable and charming Every-girl? She's just finished filming a movie - in which she plays the bully - and guest stars in the pilot for Showtime's
The Big C
, starring Laura Linney. (She's also made no secret of her admiration for such female comedians as Tina Fey and Amy Poehler, and Jesse Tyler Ferguson would
love
to have her on Modern Family.) She's found a legion of fans by being absolutely herself and by clearly enjoying every moment she's had in the spotlight. (And, really, she should call us and give us the scoop on Sunday night, because you just know she's got good stories and would be more than willing to share them over a bottle of wine.) Even if she eventually goes on to finish school and be a psychologist, there's no doubt that she's left an indelible mark in an industry usually defined by artifice and conformity. So the next time you forget to be confident in who you are and what you can do, just stop, think, and take a page from the Gabby Playbook:
"The press paints the picture that I got this role and now I'm awesome. But the truth is that I've been awesome and then I got this role."