I was originally going to call this post "Don't Be Amanda Palmer," because her recent actions are a primer in How Not To Be, but then I remembered that I actually used to like Amanda Palmer. I enjoyed her old band, the
Dresden Dolls
. They put on a phenomenal live show, and they're from Boston, which counts for bonus points with me since I'm a big supporter of local music. And I thought she was right on telling her record company to
suck it
when they objected to the sight of her perfectly normal belly in a video.
But she started to lose me at this year's Golden Globes, where she decided it would be all sorts of daring to show up mostly naked (see above). I don't know. If red carpet nudity is really that punk rock, I guess
JLo
and
Rose McGowen (NSFW)
are countercultural icons, right? But whatever, I'm all for people wearing whatever makes them feel good, even though I do think the phrase
"showing your ass"
should only ever apply in a
metaphorical sense
.
Unfortunately, a few weeks later she decided to do just that when controversy erupted over her current project, a band called Evelyn Evelyn. Palmer and fellow musician Jason Webley created a fictional duo with a totally "edgy" background: circus-performing, child-porn-surviving conjoined twins who go by the same first name, finish each other's sentences, and are too shy/awkward to promote their music. Palmer and Webley perform as Evelyn Evelyn in a special outfit that makes them look conjoined. So, to summarize: they're portraying disabled characters as unable to speak for themselves and using the characters' disability as an excuse to dress up in a wacky outfits. This, perhaps unsurprisingly, caused
a bit of an uproar.
The project itself isn't what made me unfollow Palmer's Twitter though. It was her response to the criticism that was really ugly. You can
read it here
, but it can be summarized as: a) All my friends thought it was a good idea and b) It's ART. Art should be offensive!
Well, yes, art can be offensive. That doesn't make it any good though. There's plenty of bad, offensive art out there. You can't just say, hey, people are offended, it must be good art! You need to give your audience--and your detractors--
reasons
for the offense. Otherwise the project is going to look poorly thought out and lazy at best and discriminatory at worst.
Okay, I could write about a thousand more words about that, but sadly, that's not the most bothersome thing Amanda Palmer has done recently. In the middle of a Twitter conversation taking Lady Gaga to task for too much product placement in the
Telephone
video, Palmer tweeted this: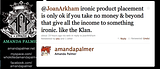 [
@joanarkham ironic product placement is only okay if you take no money & beyond that give all the income to something ironic. like the Klan.
]
Holy fuckballs! On what planet is that comment even in the same timezone as okay? The KLAN? As IRONIC? Definitions of irony:
i·ro·ny

1. the use of words to convey a meaning that is the opposite of its literal meaning: the irony of her reply, "How nice!" when I said I had to work all weekend.
2. Literature.
a. a technique of indicating, as through character or plot development, an intention or attitude opposite to that which is actually or ostensibly stated.
b. (esp. in contemporary writing) a manner of organizing a work so as to give full expression to contradictory or complementary impulses, attitudes, etc., esp. as a means of indicating detachment from a subject, theme, or emotion.
...
5. an outcome of events contrary to what was, or might have been, expected.
6. the incongruity of this.
7. an objectively sardonic style of speech or writing.
8. an objectively or humorously sardonic utterance, disposition, quality, etc.
Yeah, I don't see how "financially supporting a group that supports terrorism, brutality, and murder as an appropriate response to using a song to sell Diet Coke" falls under any of those definitions. And I'm not the only one who isn't quite sure
how the KKK counts as ironic
. (
Warning
: graphic images of Klan evil that Amanda Palmer should have fucking considered before she hit "Tweet.")
Let's be blunt here: Palmer's comment was both stunningly ignorant and a perfect example of
hipster racism
. I cannot imagine why else Plamer would think it was okay to joke about supporting the fucking Klan. Is this because Obama is president? Newsflash, people: being able to point to an African-American president does not allow you to say racist shit! "I voted for the black guy" does not equal "now I can joke about the Klan!" That is not what "post-racial" means, assholes.
Look, sorry I'm speaking so crudely, but I can't believe I have to explain this. And you know the worst part? Amanda Palmer has
400,000
Twitter followers who apparently think using a bunch of murderous bastards as the punchline to a shitty, cynical joke is totally okay. To those people I say: I don't care how awesome her music is, or how liberated and independent you think she is. Amanda Palmer is not speaking truth to power. She's stomping on the already downtrodden and calling it humor. No justification for art or honesty is ever going to make that okay.