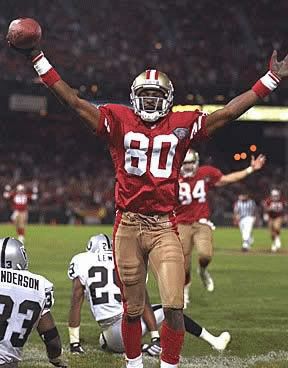 As you can see from our recent posts, we here at Don't Do That have gotten very into the World Cup, even though our beloved USA team went down to defeat by the better defense and better acting abilities of the Ghana team. We love it for the constant action, the crazy athletic abilities involved in running around a field continuously for 90 minutes with one short break, for the amazing goals and often even more amazing saves, and the crazy personalities involved. Currently, a popular feminist blog is running a World Cup feature that's all about how hot the players are, which is pretty much their sole discussion about the World Cup. Do we think that the players are hot? Oh, yes we do. Do we like it when they take their shirts off at the end of a match? Oh, we like that too! Is that why we watch the World Cup, or any other soccer game?
No.
I've been watching football (the American version) since I was a little kid. I distinctly remember
The Catch
, I lost my voice yelling at the TV during a number of tight games, and I stood up and made the touchdown sign as the sole 49er fan in a Washington D.C. sports bar during the amazing
Young to Owens
moment during the playoffs (and still have kind of fond feelings towards Terrell Owens because of that, despite all of his crazy). I love sports for the amazing moments like those, the breakaway runs, the insane interceptions run back for touchdowns, the unpredictability, and the crazy personalities.
Sports has brought us Chad OchoCinco and his
delightful twitter feed
, that crazy 10+ hour long tennis match at Wimbledon last week, and the
hilarious
live blog that went along with it, the
Miracle on Ice
, and that completely impossible and unbelievable comeback by the Red Sox in 2004.
At awkward family moments, instead of talking about the weather, we talk about sports. My uncles and cousins and I argue 49ers vs. Raiders, my mom gets outraged every time a field goal kicker misses a kick and insists that she could do it better, my best friend's husband (who has
very
different political views than I do) and I bond over the NFL draft, our fantasy football teams, and how much we despise Ben Roethlisberger. I have met so many strangers in the past few weeks as we crowd around TVs at lunchtime and during coffee breaks to watch the World Cup, I high fived people on the street after the US victory last week, and I've had long conversations with random people in bars that started with "What's the score?"
Sports is pure fun (when it's not pure misery), it's built from incredible athleticism, and bold and distinct personalities, and it has this way of bringing people together. If you question that? Just watch the video below. Sports, we love you, in all of your forms, and for so many reasons.